Collaboration is the ultimate meeting of two – or more – forces, bringing together knowledge, experience, skills and ideas to produce something that's far greater than the sum of its parts. It can be a challenging task, to abandon your ego and open your mind to another's way of thinking and ideas. For all, it leads to magic: something that would have been impossible as a solo endeavour.
All members of the 2Stories team are passionate about collaboration. Here are some of our favourite examples of great brands co-conspiring.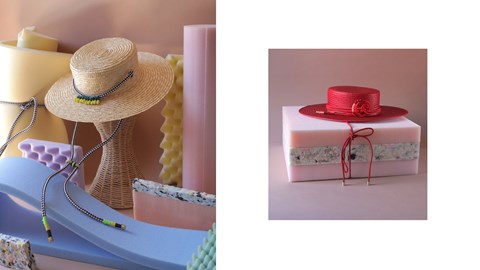 Pichulik X Crystal Birch
"Two years ago, for Design Indaba's 25th anniversary, Katherine-Mary Pichulik and Crystal Birch teamed up to create limited-edition statement hats. I love the fact that both these brands are from Cape Town and have turned their women-owned labels into iconic masterpieces. Then this collab came along and amplified both brands' uniqueness, in the best possible way. For me, this represents women coming together and supporting one another instead of competing. I'll tip my hat to that! ;)" – Michelle Cory, art director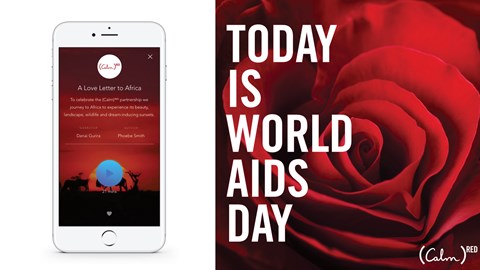 The Kingdom of the Sky 'sleep story' – Calm X RED
"Mental health has become even more important since the pandemic, so I love the Calm app in general. As well as offering meditations and a space for self-care, it features sleep stories read by silky-voiced stars such as Matthew McConaughey and Priyanka Chopra Jonas. My favourite collaboration is a bedtime tale read by the glorious Idris Elba. The app donates $1 for every listen to support RED's fight against AIDS and Covid-19 in sub-Saharan Africa." – Linda Scarborough, editor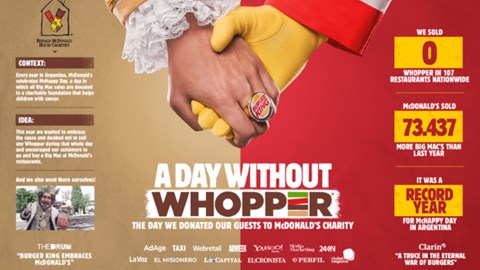 Burger King X McDonalds
"In 2017, Burger King Argentina joined hands with its greatest competitor, McDonalds, for the 'A Day Without Whopper' campaign, refusing to sell a single trademark Whopper burger at any of its 107 stores for that one day. The idea was to send customers to McDonalds instead, to support 'McHappy Day', when all sales from the brand's most famous burger are donated to help children with cancer. Not only did Burger King achieve major coverage, but it was a record year for McHappy Day in Argentina, with McDonalds selling 73 437 more burgers than the previous year.
I loved everything about this – the surprise element, the bravery, and seeing well-known 'rivals' coming together for the greater good. A feel-good campaign if ever there was one!" – Nicci Collier, copy editor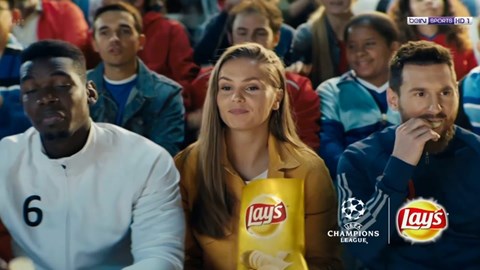 Lay's X UEFA
"Lay's and the UEFA Foundation teamed up earlier this year to give the empty chip bag a new life, instead of being thrown on the ground or in the garbage. Lay's RePlay, the global initiative launched by PepsiCo, aims to help build sustainable artificial turf football pitches with these empty bags. It is hoped that the fields, which are designed to be as environmentally sustainable as possible, will have a positive impact in deserving communities around the world. The first field unveiled was in Tembisa in Gauteng and is already open for matches and community programmes, with more to follow in Russia, Turkey, Brazil and the U.K.
I think collaborating can be quite a challenge considering you have to open your mind to other people's ideas. That's why, when it works, it can be the most harmonious and powerful thing." – Nikita Buxton, copywriter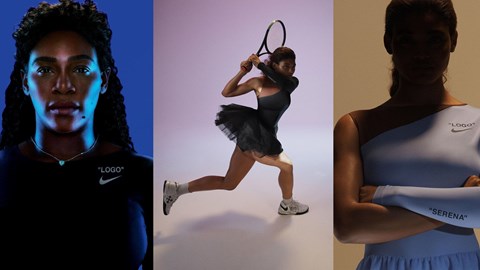 Serena Williams X Virgil Abloh and Nike
"To achieve something with another person or group implies a positive upward movement, which is always a plus in my world. Someone who does that constantly is Serena Williams. She has a gift for fashion and has constantly incorporated it into her tournament outfits. Watching her adventurous collaborations over the past 20 years has been an inspiration. How she brings her fashion sense into the professional world of tennis has broken many stereotypes. The black one-shouldered dress with full tulle skirt from her much-hyped collaboration with Off-White's Virgil Abloh for Nike was particularly special, since it came after her previous catsuit was banned by the French Tennis Federation." – Michelle Mapanda, project manager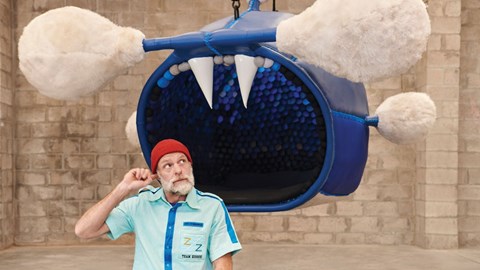 Porky Hefer X Southern Guild
"Renowned South African designer Porky Hefer recently collaborated with Southern Guild and more than 80 of SA's craftspeople – including Ronel Jordaan Textiles, Streetwires, Mielie, Wolf & Maiden Creative Studio and Mae Artisan Rugs – to produce Plastocene: Marine Mutants From a Disposable World. It consists of a series of large-scale handmade environments based upon imaginary sea creatures from a dystopian future. With this body of work, he not only manages to bring his knack for humour, irreverence and imaginative licence to his marine mutants, but also underscores something far more serious through his larger-than-life designs: the pollution of our seas. The result is astounding." – Mila Crewe-Brown, editor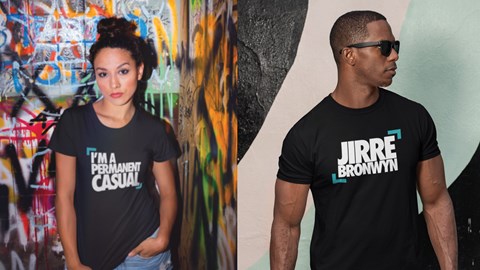 Marc Lottering X Vannie Kaap
"In May 2021, two iconic Cape Town brands teamed up to make local slang trendy. From hoodies, beanies and masks to kouse, koppies and keppies, the quintessential 'Cape Coloured' vibes can now be found on your feet, your head or next to your Le Creuset milk jug. This collab speaks to authenticity and embracing your culture. It's part of our unique identity – and it's just damn funny!" – Meagan Kuhn, account director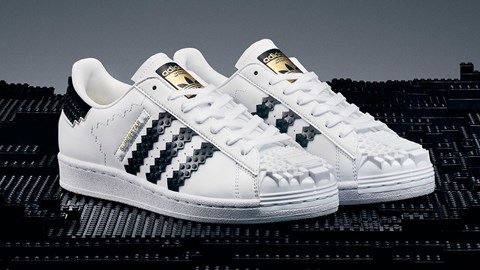 LEGO X adidas superstar sneaker
"For a long time, my personal top 10 list of brands – for cleverness, creativity, marketing genius and general coolness – has included LEGO and adidas. With their latest partnership (not their first one) they are sharing the top spot. This collab plays in both brands' spaces and consists of two projects: the new adidas Superstar 360 X LEGO shoe, and a buildable model of it made from LEGO bricks. I've been wearing the same pair of Superstars almost daily for the past two years, so I guess it's time I build a shoe for my desk!"
– Anelde Greeff, founder & chief content officer